Global Leader in Hand Protection
As a licensee of both Dyneema® and DuPont® advanced fibers, our gloves and sleeves are made using proprietary engineered yarn blends and coatings. The result - hand and arm protection that is innovative and performance driven. Meeting todays tough ANSI and EN standards, we develop and market seamless knit, coated and uncoated, polymer, supported and unsupported as well as cut and sewn gloves in both leather and advanced composite materials.
SHOWING 1-1 OF 1 ITEMS
1 of 1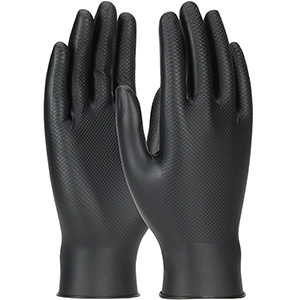 JKTP
EN 374 Results: JKTP
J: Heptane
K: Sodium Hydroxide 40%
T: Formaldehyde 37%
P: Hydrogen Peroxide 30%

To attain the EN 374 pictogram shield gloves must pass at least a Level 2 in three chemicals. The chemicals listed above are the chemicals that passed for this glove.
ESD Safe
ESD is an acronym for electrostatic discharge. This discharge is the rapid transfer of static between two different objects. Although ESD doesn't typically cause harm to the human body - you might only experience it as a small, surprising shock - it can cause extensive damage to electrical equipment and sensitive instruments. This damage may either be permanent, causing the device to malfunction (known as a catastrophic failure), or it may occur on a smaller scale that would be difficult to detect before the device is sent out for service (known as latent defect).
Touchscreen Compatible
A common misconception is that touchscreens work based on heat from fingers. It's not heat that generates touchscreen functionality, instead, most screens work either on finger pressure applied or electrical field disruption. Basically, this means there are two main types of touchscreen technologies, Resistive and Capacitive.
Click here for more information about Resistive and Capacitive Touchscreens
SHOWING 1-1 OF 1 ITEMS
1 of 1